The average cost of renting a residential dumpster in the country starts from $200 to $550 per week. Many homeowners pay about $360 every week for one that accommodates 10 cubic yards. At the cheaper part of the price range, prices per week for a small, two cubic yard dumpster for household trash use can be $75. On the high side, your cost can be up to $800 per week for a roll-off dumpster that holds 40 cubic yards.
The costs of renting a roll-off dumpster are direct. Mostly, the factors that dictate the total price are similar all over. But actual dumpster costs will differ depending on extra fees, such as overfill or time extensions.
So, whether you are decluttering your home or remodeling your kitchen, the cost to rent a dumpster depends on the type as well as the number you have.  
What Factors Dictates Dumpster Rental Prices?
Many factors dictate the dumpster rental prices, which makes it difficult to state an actual price without reaching out to a supplier. When you are renting a dumpster, the following factors affect the rental price:
Size: Many sizes of dumpsters are available to cater to various jobs. Below are the popular ones, and their dimensions as well as their capacities.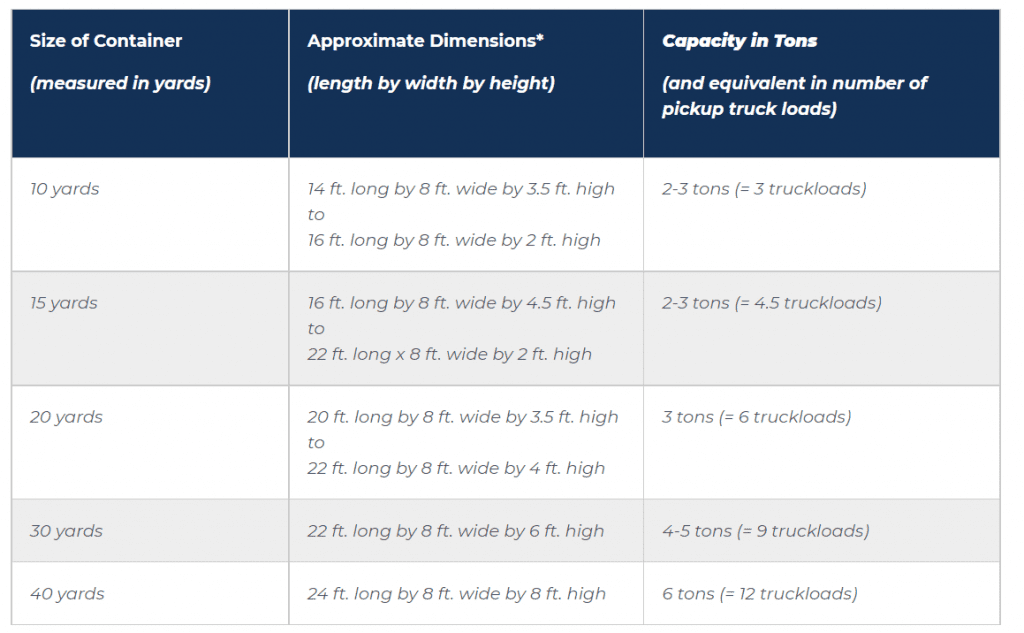 Size of Container

(measured in yards)

Approximate Dimensions*

(length by width by height)

Capacity in Tons

(and equivalent in number of pickup truck loads)

10 yards
14 ft. long by 8 ft. wide by 3.5 ft. high to
16 ft. long by 8 ft. wide by 2 ft. high
2-3 tons (= 3 truckloads)
15 yards
16 ft. long by 8 ft. wide by 4.5 ft. high to
22 ft. long x 8 ft. wide by 2 ft. high
2-3 tons (= 4.5 truckloads)
20 yards
20 ft. long by 8 ft. wide by 3.5 ft. high to
22 ft. long by 8 ft. wide by 4 ft. high
3 tons (= 6 truckloads)
30 yards
22 ft. long by 8 ft. wide by 6 ft. high
4-5 tons (= 9 truckloads)
40 yards
24 ft. long by 8 ft. wide by 8 ft. high
6 tons (= 12 truckloads)
NB: Dimensions vary depending on manufacturer and provider. High-size dumpsters are more expensive to rent than smaller ones, as you probably expect. However, some companies may offer specials at random times because of an overstock of a particular size.
Location: The company's location, closeness to where you live, and the convenience of bringing the dumpster to your location and the dump will impact the price
Rental company type: Local rental providers, national providers, and interstate brokers all have different pros and cons
Rental basis: Cost and fees, are bundled together and sets weight restrictions in a flat-rate rental. Valuable-rate rental is subject to change based on the specifics of the booking
Availability: Prices change based on supply and demand, increasing during peak construction seasons.
Rental duration: Yes, you will pay for all the time the dumpster spends with you
Type of trash: Specific types of trash are highly tough to dispose of, such as appliances, mattresses, or those that contain hazardous items.
Weight of junk: There is certain trash that weighs more than the rest. Heavy trash attracts expensive transport fees.
Permits: Some areas as that you get a permit before you can place a dumpster on your property
Fees: These may include delivery/pickup, landfill or dump use, late charges, beyond-limit weight or volume, and others. Even though the size of the dumpster has so much to do with the total cost, added costs can easily enter in the final minute, so it's best to always know what they are.
Overload fee: If you reach the maximum capacity of your dumpster, you will have to pay for each extra ton. This can cost around $40 59o $100 per ton based on the landfill.
Overflow fee: This fee applies if any goods in the dumpster are spilling over.
Additional days: For each day you use the dumpster after the first week of rental, most rental companies charge around $5 to $10.
Hazardous waste fee: Dumpster rental providers will charge you an additional fee if there are hazardous or prohibited items in your load (such as chemicals, batteries, and so on).
Special item fees: Based on the state, some landfills charge additional fees for longings like TVs and mattresses.
Tip fee: If your driver faced challenges dropping off or picking up your dumpster due to obstacles on their way, such as a parked vehicle or a power line, your final price will see a fee added to it.
All the factors above come together to play a major part in dictating the overall price you will see. Continue reading to further see details on each as well as discover how they combine to affect the overall price.
There are many types of companies you can rent a dumpster from, and they all charge different prices for dumpster rental because of their various business models:
A local, standalone rental company can offer customized, friendly customer service (especially family-owned providers) and usually charge lesser prices. However, with a tight budget, it might not provide the actual size of dumpster you need when you want it.
A large, national rental provider has a large budget, with scheduling, inventory, and customer service that are capable to match, and should be able to cater to all your needs. You might just end up spending more for the easy service.
Interstate brokers are intermediaries who don't exactly own dumpster inventory, but instead link you up with a standalone provider and handling the booking and scheduling on your behalf.
Know that not all areas have companies of all types of services. In highly remote locations, you may only find one type or just one provider. Which one costs more in your location is a guess; but generally, if you discover a huge advertising budget, prepare to be charged a higher price.
Sizes and Prices for Roll-Off Dumpster Rental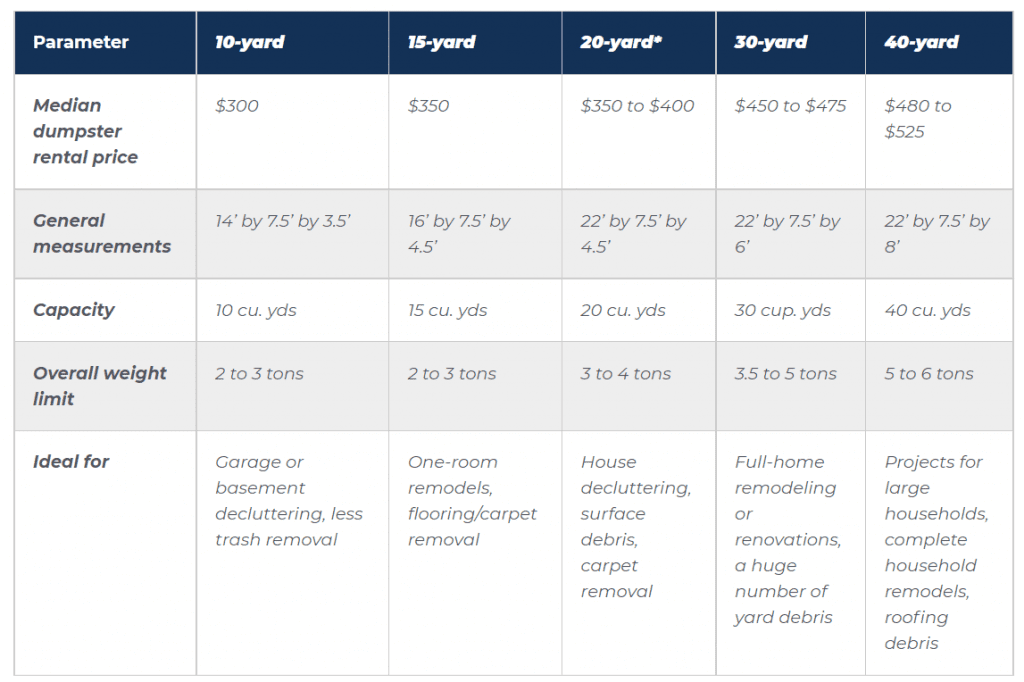 | Parameter | 10-yard | 15-yard | 20-yard* | 30-yard | 40-yard |
| --- | --- | --- | --- | --- | --- |
| Median dumpster rental price | $300 | $350 | $350 to $400 | $450 to $475 | $480 to $525 |
| General measurements | 14' by 7.5' by 3.5' | 16' by 7.5' by 4.5' | 22' by 7.5' by 4.5' | 22' by 7.5' by 6' | 22' by 7.5' by 8' |
| Capacity | 10 cu. yds | 15 cu. yds | 20 cu. yds | 30 cup. yds | 40 cu. yds |
| Overall weight limit | 2 to 3 tons | 2 to 3 tons | 3 to 4 tons | 3.5 to 5 tons | 5 to 6 tons |
| Ideal for | Garage or basement decluttering, less trash removal | One-room remodels, flooring/carpet removal | House decluttering, surface debris, carpet removal | Full-home remodeling or renovations, a huge number of yard debris | Projects for large households, complete household remodels, roofing debris |
Dumpster Rental vs Junk Removal
The major difference between junk removal and a dumpster rental is the number of time and energy needed by the homeowner. When you rent a dumpster, you (or your helper) load it before the company comes for collection.
Junk removal services, on the other hand, come to your doorstep and provide you an estimate on the junks you want to be transported away. You don't need to perform any task other than to show them the things you want to be taken away. The service loads the junks in the dumpster or truck and hauls them to the landfill or processing plant on your behalf. The cost of junk removal services starts from an average of $125 to $350.
How much does a roll-off dumpster cost?
Roll-off dumpster prices start from $339 to $853. The overall cost will base on your location, the size you rent, and the type of trash being taken out.
Why are dumpster prices not the same?
Dumpster prices change depending on the type of trash you are removing. Your rate includes the landfill or processing facility charges for disposal. Construction heavy trash and yard waste costs are normally more expensive as facilities often sort, materials for recycling or recovery of resources.
What else affects the dumpster price?
Together with the rental duration, weight limit, taxes, and disposal fees include proof of of of dumpsters, the overall cost can change if you breach the terms of your agreement. For instance, if you keep the dumpster longer than agreed upon, go beyond the weight limit, or toss any hazardous items, extra charges will apply.
What difference exists between flat-rate and variable-rate dumpster fees?
To assist you to figure out the difference between the two types of fees, see the breakdown below:    
Flat rate: This fee is fixed, irrespective of weight, volume, and usage
It includes pickup, delivery, fueling costs, and tax
Charges additional fee for extra tonnage
Assists with budgeting
Variable-rate: This fee changes based on added fees
Dumpster rental, administrative, removal, landfill tonnage, franchise, together with environmental surcharge fees as well as taxes are all featured
In general, flat rate pricing packages the entire variables into a single rate, informing you of your price at the start. Also, it considers extra tonnage, so you could dispose of heavier trash without the need to pay more. However, it doesn't imply that variable rates are more expensive. Since you pay just for what you use, you can easily monitor your overall cost.
Whether you need the dumpster for just a day or a week, you will receive a price that features flexible rental duration so you can draw out your schedule at a direct cost.