Top Rated Long Distance Mover in Daytona Beach!
GET YOUR FREE MOVING ESTIMATE
Professional Long Distance Moving Company serving Daytona Beach, FL
Adams Van Lines is a professional long-distance moving company serving Daytona Beach, Florida. Florida is also called the Sunshine State. The state stands by its nickname with its welcoming, warm climate. Are you planning to move to this historic and beautiful city? Is the balmy and scenic beach inviting you to the city? Adams Van Lines can make the relocation process seamless.
Daytona Beach is a city in Volusia County, Florida, United States. It is about 51 miles Northeast of Orlando and 265 miles from Miami. It lies approximately 86 miles Southeast of Jacksonville. The city is known for its beach. Daytona Beach is the principal city of Deltona–Daytona Beach–Ormond Beach metropolitan area and Fun Coast region of Florida. As of 2013, Deltona–Daytona Beach–Ormond Beach metropolitan area was home to 600,756 people.
The city has a beautiful and fun history. The hard-packed sand here made it a popular destination for motorsports. The old Daytona Beach Road Course hosted races for about half a decade. In 1959 the spot was replaced by Daytona International Speedway. To add to the city's significance, NASCAR has its headquarters here. 
Relocating to a new neighborhood in Daytona Beach can be exciting. It offers safety, beauty, and accessibility. However, the process of relocation can be daunting if you are doing it all by yourself. Adams Van Lines is one of the most professional long-distance moving companies. It assists customers primarily in Florida, New York, New Jersey, and California. It offers interstate as well as long-distance moving services. Adams Van Lines has been providing services in Daytona Beach for more than a decade.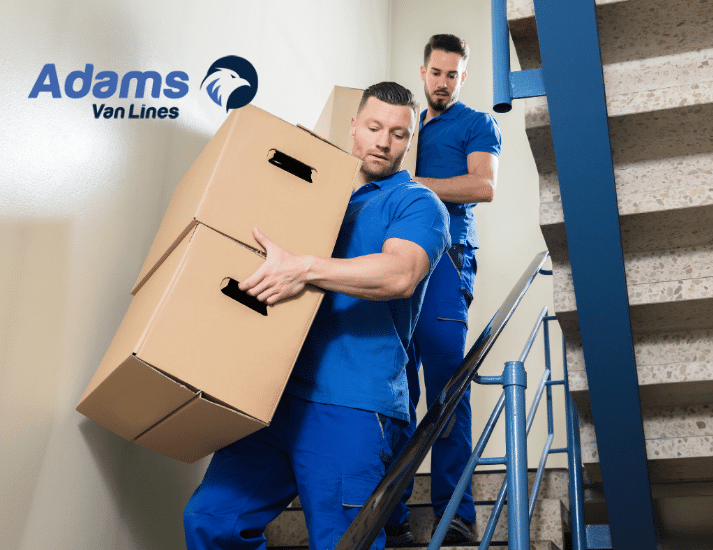 Are you setting up a new office in Daytona Beach? Or you want to move your office location to a different city or state.

Are you planning to vacate your old home in Daytona Beach or its suburbs?

Have you decided to relocate to this city?

Are you setting up an office space in Daytona Beach?
Whether you are moving in or out of Daytona Beach and its suburbs, a professional moving company makes the entire process quick and easy. Hiring trucks for moving your stuff across the state lines of Florida can be expensive. Besides, misses are bound to happen while you are single-handedly coordinating between two locations that are hundreds of miles apart. You may need expert long-distance movers for a safe and stress-free relocation. Adams Van Lines offers interstate and cross-country moving and storage services at an affordable cost. The professionals at Adams Van Lines understand that long-distance relocation can be stressful as it is. So they ensure that there are no hidden charges that add to your stress in the end while you move to or from Daytona Beach. The process, along with the costs, is transparent. At Adams Van Lines, you will get quality trucking and hauling services with no strings attached. You can give them a free call or drop in an email for quotations, with no obligations of hiring their services.
Adams Van Lines offers end to end long-distance moving and storage services. Their customized plans can fit a wide budget range. Adams Van Lines is one of the very few organizations in Daytona Beach to offer moving and storage facilities at flat and hourly rates. They also assist with loading and unloading, packing, and unpacking. Adams Van Lines services are not restricted to moving furniture and electronics. The professionals there also have experience in relocating your vehicles, fragile items, and an entire office! The packing and moving team at Adams Van Lines offer doorstep pick-up and drop of your items. You may have rented out long haul rental trucks, trailers, or containers. Your personal move coordinator at Adams Van Lines can assist in the end to end coordination. S/he will ensure that your precious items are packed, loaded, and delivered safely to your new location. 
Over the course of ten years, Adams Van Lines has earned a reputation of being the best long-distance carriers in the industry. Amidst the ongoing global pandemic, the team takes extra precautions and safety measures.
Adams Van Lines offers reliable movers who know their way around Daytona Beach. Call Adams Van Lines for your next interstate or cross country move in Daytona Beach, Florida.
We have the best long distance movers serving Daytona Beach and surrounding areas such as
Ballast Point

Beach Park

Bon Air

Carver City-Lincoln Gardens

East Daytona Beach

Fair Oaks – Manhattan Manor

Harbour Island

Hyde Park

North Hyde Park

Northeast Macfarlane
Oakford Park

Palma Ceia

Palma Ceia West

Palmetto Beach

Parkland Estates

Riverside Heights

Sun Bay South

Daytona Beach-Bayshore Gardens

Daytona Beach

Ybor City
We are full-time professional long distance movers. Call us for your next interstate or cross country move in Daytona Beach.