Top Rated Long Distance Mover in Tampa!
GET YOUR FREE MOVING ESTIMATE
Professional Long Distance Moving Company in Tampa, FL
Adams Van Lines is one of the most professional long distance moving companies in the United States that assists customers primarily in Florida, New York, New Jersey and California in interstate moving and long distance moving services. We have been operating in Tampa for more than a decade and whether you're vacating your old home in Tampa or its suburbs or transferring into a new one out of state, don't do so without calling the long distance movers from Adams Van Lines. 
Relocating to a new neighborhood in Tampa can be extremely exciting, particularly if you are going to a better house or a safer location. However, the process of relocation can be quite challenging, regardless of whether you are entering a small home or a big one. The solution is to choose the right men for the job, Adams Van Lines.
Hiring truckers and to transport your goods over Florida state lines can be expensive.  Adams Van Lines however, has affordable rates and there aren't any unwanted charges to add to the stress of your long distance relocation to or from Tampa. We are one of the few full-service long moving companies offering moving and storage at and flat or hourly rates.
Coordinating a successful move between two locations hundreds of mile apart is quite a hassle. Save yourself time and energy and make your long distance move stress-free and easy thanks to customized moving plans from Adams Van Lines. 
Give us a call and get a free estimate on your long distance or cross country move.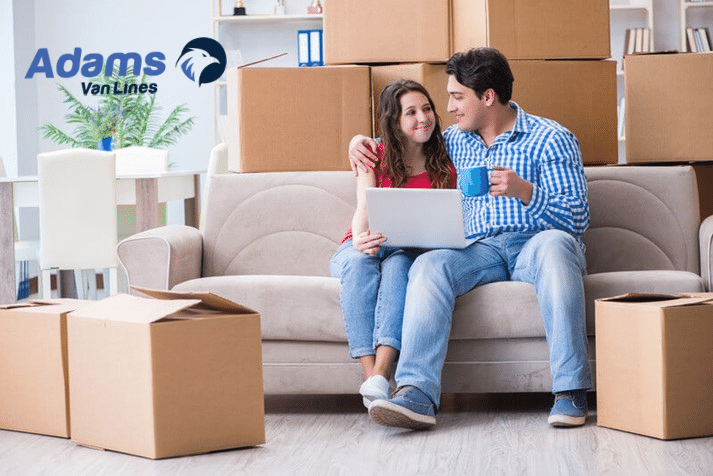 Interstate Moving Service and Long Distance Moving Services in Tampa, FL
Adams Van Lines offers full-service long distance moving packages, interstate corporate relocation, and storage services. Whether it's an in-state move, out-of-state move, packing/unpacking, piano moving or vehicle transport, we can help. Our experienced team aims to provide carefree relocation and loading/unloading services to homes and offices in Tampa and deliver a seamless moving experience.       
Our moving team will take care of the packing and shipping and deliver it right to your Tampa doorstep at no extra cost. We can also offer you labor help with loading and unloading. Choose us for long distance moving help in Tampa whether you have a long haul rental truck like UHaul, Budget, Penske, and ABF Trailers or a container like ABF ReloCube, PODS, and Pack-Rat. 
We maintain complete transparency about the procedures and pricing of your long distance move. You won't be in for any late surprises as we won't add on additional fees and services you don't need. Get quality trucking and hauling services with no strings attached.  Over the course of ten years, we have managed to garner a reputation as the best long distance carriers in the industry.     
Our team of movers has taken extra precautions and safety measures due to the global pandemic. Give us a call at or email us for a free no-obligation quote. We are the solution to your interstate and long distance move.
Long Distance Moving Service Areas in Tampa, FL
We welcome everyone who plans to change their residence to and from Tampa. If you are looking to move into, out of, or around Tampa, you need an experienced moving team. You will find that your personal move coordinator from Adams Van Lines is reliable, courteous, affordable, and know their way around Tampa. 

We pack up, tape tight, and make ensure your safe resettlement form your old place to your new one. We also offer flat-rate pricing on the date of your big move.  Wherever you plan to live in Tampa, our team can take care of all your requirements. Make us your "moving services near me" company.    

Tampa is a major city in, and the county seat of, Hillsborough County, Florida, United States. It is on the west coast of Florida on Tampa Bay, near the Gulf of Mexico. Tampa is the largest city in the Tampa Bay Area. With an estimated population of 399,700 in 2019, Tampa is the 48th most populous city in the U.S. and the third-largest city in Florida after Miami and Jacksonville. The bay's port is the largest in the state, near downtown's Channel District. Bayshore Boulevard runs along the bay and is east of the historic Hyde Park neighborhood. 
We have the best long distance movers serving Tampa and surrounding areas such as
Ballast Point

Beach Park

Bon Air

Carver City-Lincoln Gardens

East Tampa

Fair Oaks – Manhattan Manor

Harbour Island

Hyde Park

North Hyde Park

Northeast Macfarlane
Oakford Park

Palma Ceia

Palma Ceia West

Palmetto Beach

Parkland Estates

Riverside Heights

Sun Bay South

Tampa

–

Bayshore Gardens

Tampa

Ybor City
We are full-time professional long distance movers. 
Call (786) 870 1729 for our your next interstate or cross country move.