People in the United States who rent apartments should prepare to spend a minimum of $240 every month for utilities, and we've discovered that homeowners should plan to spend about $400 per month.
Certainly, climate and energy costs are not the same for every state, so utility bill also vary. If you recently moved or are getting set for a move, it is important to include utility bills for gas, cable, water, electricity, and internet in your budget.
We evaluated the average utility costs in each state to determine their difference by location. Continue reading to find out more about monthly utility costs as well as the amount you should be spending – and to learn cost-saving tips.
Average Monthly Costs of Utility in the United States
| Utility | Cost |
| --- | --- |
| Electricity |  $114.44 |
| Natural gas |  $63.34 |
| Water |  $70.93 |
| Streaming services:  | $47.43 |
| Broadband internet |  $60 |
| Trash/recycling |  $14.03 |
| Total cost |  $370.16 |
What is the Average Electricity Bill?
Your highest monthly utility expenses will possibly include an electricity bill. The typical American uses an average of 41% of their household's overall energy on space cooling and heating, and 35% on lighting, appliances, and electronics. The electricity bill of your apartment will also be higher or lower based on the number of people in your home; your state; the number of appliances and electronics running on electricity; as well as the size of your apartment.
You should know that the average electricity consumption of each state vary, which then causes a higher average electricity bill in some states with higher consumption.
Hawaii is leading the list with a median electric bull of $160. Alabama follows it with an average of $148 and Connecticut with $146. Colorado is at the opposite end with an average of $82, New Mexico at $80, and Utah at an average of $73.
The number of rooms in your apartment will also have a major influence on your utility bills. For instance, the median electric bill for a 1-bedroom home is approximately $94 per month if you stay alone, but it could increase by $75 or more if you have roommates in a 3-bedroom apartment.
If your roommates leave their computers running for ten (10) hours every day or enjoy using the A/C, your overall electric bill could be $60 or higher. Therefore, if you live with roommates, try to use apps to help share the bills among you to be able to save money easily.
Some appliances and electronics consume more power than others
It may not surprise you that running an electric clothes dryer consumes more power than charging your mobile phone or other small household appliances. Energy consumption is broken down by Silicon Valley Power (utility provider in California) by appliance, placing energy consumption on $0.13 per kWh and average conditions.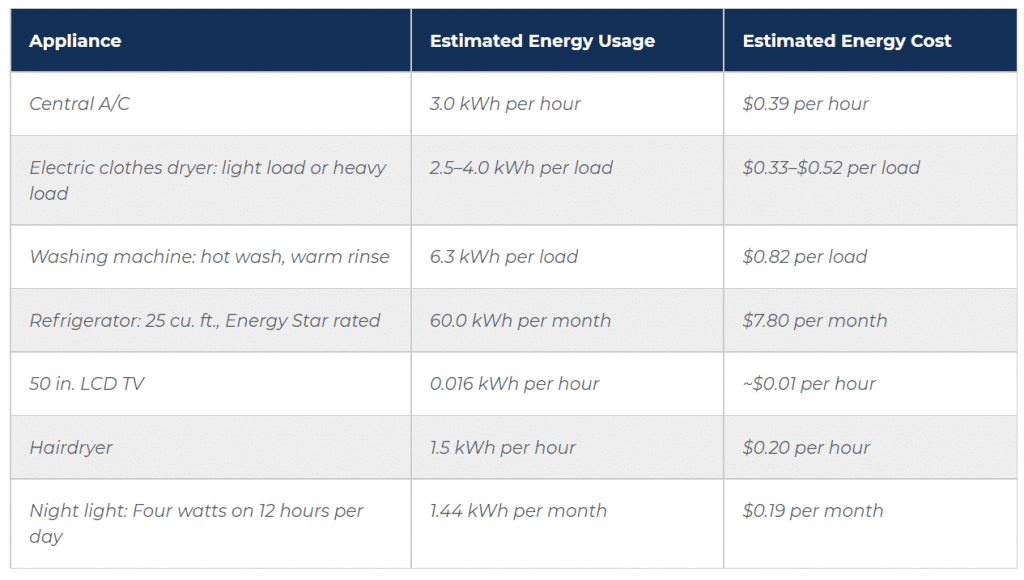 | Appliance | Estimated Energy Usage | Estimated Energy Cost |
| --- | --- | --- |
| Central A/C | 3.0 kWh per hour | $0.39 per hour |
| Electric clothes dryer: light load or heavy load | 2.5–4.0 kWh per load | $0.33–$0.52 per load |
| Washing machine: hot wash, warm rinse | 6.3 kWh per load | $0.82 per load |
| Refrigerator: 25 cu. ft., Energy Star rated | 60.0 kWh per month | $7.80 per month |
| 50 in. LCD TV | 0.016 kWh per hour | ~$0.01 per hour |
| Hairdryer | 1.5 kWh per hour | $0.20 per hour |
| Night light: Four watts on 12 hours per day | 1.44 kWh per month | $0.19 per month |
What is the Average Cost of a Water Bill?
The median cost of water bills in the US is $70.93/month. The average American family is estimated by the Environmental Protection Agency (EPA) to use 300 gallons of water every day. To further explain that, that amount of water is enough to fill a 6-person hot tub. The price of water is also increasing. It increased 41% between 2010 and 2015, and prices and fees of sewer increased even more significantly during that period. The rate of increase has reduced since 2015, but prices to rise are.
What is the Average Cost of the Gas Bill?
When looking into gas costs, southern states have some of the lowest prices, then the West Coast – because of low consumption per month and fair prices. Florida has the lowest with an average gas bill of $38; Arizona has $46; while Louisiana has $47. The average gas bill in California, Idaho, New Mexico, and Nevada is below $60. And, while a lot of people cook and heat their home using gas, median amounts may vary since the provider or local administrator could add extra fixed charges or taxes on the bill.
For example, the median gas bill for a 1-bedroom home will be about $46/month when in the colon if your appliances that run on gas are so efficient. However, don't forget that weather is also a major variable factor and low temperatures in winter will drastically increase the cost of heating. Also, the median gas bill for a 3-bedroom home with an improved efficiency furnace and/or water heater can go up to and a bit above $61. But, if your appliances have low or average efficiency, prepare to pay above $70 for a 3-bedroom rental.
What is the Average Cost of an Internet Bill?
In this age, an internet connection is essential for most households. And, with remote work gaining more popularity, it is highly important than ever. However, median internet prices can differ from as low as $20 in Washington, D.C. up to $70 in Alaska. Based on your chosen provider and plan, rates may also be higher.
What is the Average Cost for Cable TV?
Before, you only have to plug your TV into the wall and fix a wire coat hanger as your antenna to watch the TV. Television was free back then. Nowadays, cable prices are everywhere, and most are not FCC-regulated. You can access basic channels for free with the use of a digital antenna, but complete cable subscriptions cost an average of about $85 per month.
What is the Average Cost of a Phone Bill?
Pew Research Center reported that 97% of American adults own a phone each. The top cellphone carriers always change their prices to fight but can get for about $120 – $240 per month for a size-four family.
What is the Average Cost of Heating and Cooling your Home?
The United States Energy Information Administration reported that the median cost of energy in households in the country is around $115.49 per month in 2019, with roughly half of that money spent on heating and cooling. This might appear a little expensive, but fortunately, there are ways to cut your energy bill. it completely depends on your location, your home's size, and also whether you decide to conserve energy.
What is the Average Cost of Trash Removal?
The average American generates roughly 4.5 pounds of trash daily and, fortunately for you, your trash bill – on average from $25 to $100 – make sure you don't have to drive the trash to the landfill yourself. While recycling doesn't normally feature on your trash bill, Americans that have a need for cycling are charged around $4 every month for the service. There are times that you will even see sewage, water, and trash all on a single bill with one monthly fee.    
Monthly Electric Bill by State
How do you find out your average when looking into the amount you pay for monthly electricity? A better way to figure out this is to look into how your median monthly electric bill stands against other consumers within your state. Below is a look at the median 2017 monthly electric bill in all the states as compiled by the United States Energy Information Administration:  (Source: U.S. Energy Information Administration)
| State | Cost |
| --- | --- |
| Alabama |  $142.55 |
| Alaska |  $127.83 |
| Arizona |  $128.40 |
| Arkansas |  $105.64 |
| California |  $101.49 |
| Colorado |  $82.47 |
| Connecticut |  $139.97 |
| Delaware |  $121.73 |
| District of Columbia |  $96.52 |
| Florida |  $126.44 |
| Georgia |  $126.38 |
| Hawaii |  $149.33 |
| Idaho |  $100.38 |
| Illinois |  $89.63 |
| Indiana |  $114.04 |
| Iowa |  $102.55 |
| Kansas |  $114.65 |
| Kentucky |  $114.15 |
| Louisiana |  $115.54 |
| Maine |  $87.21 |
| Maryland |  $131.16 |
| Massachusetts |  $116.86 |
| Michigan |  $97.41 |
| Minnesota |  $97.58 |
| Mississippi |  $125.38 |
| Missouri |  $115.60 |
| Montana |  $94.75 |
| Nebraska |  $104.96 |
| Nevada |  $102.29 |
| New Hampshire |  $114.95 |
| New Jersey |  $102.38 |
| New Mexico |  $79.16 |
| New York |  $103.22 |
| North Carolina |  $113.98 |
| North Dakota |  $109.38 |
| Ohio |  $106.13 |
| Oregon |  $103.26 |
| Oklahoma |  $110.27 |
| Pennsylvania |  $114.48 |
| Rhode Island |  $105.76 |
| South Carolina |  $140.80 |
| South Dakota |  $115.06 |
| Tennessee |  $123.30 |
| Texas |  $122.47 |
| Utah |  $81.65 |
| Vermont |  $95.02 |
| Virginia |  $124.54 |
| Washington |  $98.78 |
| West Virginia |  $119.30 |
| Wisconsin |  $94.67 |
| Wyoming |  $97.10 |
How to save Money on your Utility Bills
Before we enter into the details of the cost of utilities, below are some ways to save money on your monthly utility bills:
Use a smart thermostat in place of the old thermostat place your lightbulbs with energy-savers
Use insulated curtains instead
Disconnect your electronics when not in use
Get solar panels for your apartment
Replace your water heater every 10 years
Replace the air filter of your furnace every 90 days
Reduce your water use for showering and brushing your teeth.
There are lots of ways to cut back your utility cost even if you want to remain in your state. Try the entire ways possible to reduce your next utility bills, and this will not only save you money, but you will also be saving the environment.