It is not difficult to find long-distance moving companies in the country. Currently, there are a huge number of movers all around the country for different shapes and sizes. In smaller places, moving companies that are owned by families are common. This is generally because they are familiar with the proprietors and know that they can be trusted. Moving long-distance is often a stressful chore; hence, you need a professional hand.
However, choosing the best long-distance movers from the long list of moving companies can be challenging and tricky.
To assist you, we researched over 65 movers and reviewed only the best for your upcoming move. Continue reading to locate the five long-distance moving companies we recommend.
Top 3 Long-Distance Moving Companies
We have conducted research and reviewed some of the highly recommended long-distance moving companies in the country to assist you to figure out the one that best suits your needs. We used categories like customer happiness, storage, nationwide availability, container/pod options, and more to evaluate 65 movers.
We also make a comparison of leading long-distance movers on service, cost, and advantages. After comparing the benefits and drawbacks of every company, we recommended the best for you. Depending on detailed analysis and thorough research, our leading recommended long-distance moving companies are below.
Top 5 Long-Distance Movers
A lot of long-distance moving companies can render the exact moving requirements you need help with, but it can take more time and even hard making effort to figure out which mover is perfect for you.
From full-service moving companies to rental moving truck services as well as partial service companies, you have many options when looking into long-distance movers.
We checked how each of these movers continues to satisfy and exceed the expectations of their customers. We've listed out five top movers that satisfy or pass your expectations in all aspects, especially customer satisfaction and nationwide availability.
This company has been offering top-notch moving services to customers since 1999 and that has seen them popular as one of the most reliable and trusted long-distance movers in the moving industry today.
They are bonded and licensed by the Department of Transportation. They have performed well through the assistance of their properly-trained professional movers who will help to pack, load, and unload, and every other technology as may be needed by their clients. They specialize in state-to-state moving, nationwide moving, cross country moving, and so on.
No-cost non-obligatory quotes
Custom-made relocation plans and execution
Price matching
Free storage up to 30 days
Experienced and background-vetted workers
Useful online pricing details
Offers all moving services except international moving services
Quoting processing long
Need a more modern and tech-savvy long-distance moving company? You are in the right place with iMoving and its personalized secure marketplace. Use the moving platform to make a DIY inventory planner and add the specifics of your move. Check the completely screened companies on iMoving and vet the results using price or anything that matters to you.
Also, iMoving will send binding moving quotes to you via the online platform where you can also finish your booking, secure payments, and the rest. The best is: delayed payments imply that iMoving protects you and doesn't pay the movers until the entire process is complete to your satisfaction.
Local and international moves
Many extra services are available
Delayed payment option
Responsive website
Many information on the company's website
Need to find out its availability, if yes, you are can proceed
Many customers are using them, so you need early booking
Whether you are moving across state borders, to another country, or long distances inside your state, Pricing Van Lines has the network of professional movers to personalize your move. Pricing Van Lines is well organized and offer helpful online resources. Fortunately, a well-organized network of the best interstate movers also implies that pricing Van Lines can assist you to make that budget work.
When next you need a long-distance for you cross-country move, look nowhere, Pricing Van Lines is the right company for the job.
Available nationwide
Instant online quotes
Availability of temporary- and long-term storage
Cleaning services
Availability of online shipment tracking system
Unstable customer services
United Van Lines offers nationwide, full service moving solutions to all corners of the United States. If you are searching for moving companies that are experienced in long-distance moving service, trust this company. The company is a large moving service that offers interstate, long-distance, local, and international moving services. They offer just about every moving service you could need in a long-distance move, ranging from storage, packing to auto transport and home cleaning.
Available in all-state
Features more-than–average customer reviews
Specialty services offered, such as antique and vehicle shipping
Customer experience varies based on location
No sample pricing was mentioned on its site
If you are moving beyond 100 miles but living in the same state, we recommend that you hire this company to take care of your move. Atlas has more than 7 decades of moving experience, and its nationwide presence makes it a choice for moves in all states. Atlas Van Lines is a full-service moving company with branches in all states.
Atlas seems like a friendly, local mover with all the advantages of an international company. Together with its wide coverage and comprehensive list of moving services, two other things make the company our perfect choice for long-distance move.
AAA member discounts
Shipment tracking
Storage options
Enter Moving Details and Get your moving Quote in Seconds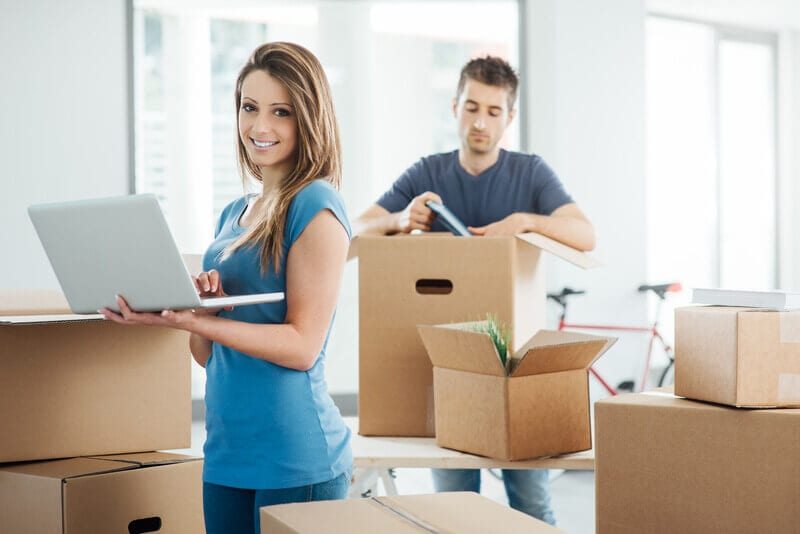 What is the Cost to Hire Long-Distance Movers?
Long-distance movers charge by the overall weight (per pound) or volume of the goods in your household. The approximate cost of relocating a home can start from $600 up to $10,000 or more based on the size and distance of the move. The best movers will provide you a free moving estimate on the phone or via a virtual or in-person survey.
A small 1-bedroom will normally weigh about 2,000 pounds and cost around $600 for just a few hundred miles to $3,500 or more for an interstate move. a two-three-bedroom home of 2,000 square feet in size will normally weigh 5,000 pounds with the cost of moving it will cost around $1,700 to $7,000 based on the distance.
Other fees like crating fragile belongings, shuttle trucks, bulky items (piano), specialty packing, and more can increase the cost of moving. Moving in or out of a small place like the Dakotas or Montana will normally be expensive because fewer moving companies these an in. Famous moving routes will cost a lesser amount.
See our list of the best long-distance movers to obtain quotes from various companies 
| Distance | One-bedroom | Two-three bedrooms | Four-five bedrooms |
| --- | --- | --- | --- |
| <50 miles | $320 to $750 | $740 to $1,600 | $1,100 to $5,700 |
| 250 miles | $850 to $2,300 | $1,300 to $3,950 | $2,050 to $5,700 |
| 1000 miles+ | $1400 to $2,900 | $2,100 –to $7,800 | $4,900 to $8,100 |
| 2500 miles+ | $1,900 to $3,800 | $3,200 to $9,700 | $9,400+ |
Read more about How Much Do Long-Distance Movers Get Paid?
What makes a Good Long-Distance Mover?
Quality customer service and direct pricing:
Check for a company's customer service and pricing transparency to determine its quality. Read reviews from customers to determine if the company is usually reported by customers for a price increase or had pushy or unreliable agents. If so, finding a different company is probably the best way out. You can also find out customer experiences by finding out if we have published a moving grant report concerning the company you are looking into.
Numerous services:
There are moving companies that offer only a few (e.g., loading and packing services), while others have so many extra services like piano shipping and network installation. Watch out for a healthy combination of free and paid services that will help fasten up your move. Regardless of what your move needs, there I always a moving company that can accommodate your special needs.
Doesn't scam:
We've rigorously researched each moving company on this list to make sure they are all reliable, so you don't have to worry about being scammed by any of them. If you want to hire a moving company that is not on this list, read our article that guides you on moving scams to figure out how to identify the good movers from the bad ones.
Top 5 Features of Good Long Distance Moving Company
Finding a good moving company to transport your goods from one point to another may seem like a cheap task you can do online, but there are certain vital things you will want to watch out for to get the best mover to satisfy your needs.
1. Reputation:
The level of information you can access in the research stage of a move makes it so much easy to screen down the search of movers that are worth your money. Make use of verbal references from family, friends, and colleagues as well as online reviews from customers to get a clearer picture of the movers you are researching. A moving company should never request a deposit to 'keep your reservation,' and it is also illegal to ask you.
2. License and insurance:
Your destination will determine the movers' license requirement. A local move only needs a US DOT number, individually provided by the U.S. Department of Transportation for that particular moving company. You can confirm the DOT number issued for a moving company is valid via the U.S. DOT database. You will also want to ensure that the moving company has insurance, which can also be confirmed on the official database of the DOT. Any moving company that doesn't carry a license or insurance is a bad fit in ensuring the safety of your goods.
3. Certifications:
Similarly, to how you've done with the license and insurance details, there are some advanced ways to ensure the particular moving company you are considering possesses the relevant certifications to run business. Any legit mover will be able to present evidence of these certifications, and a lot of people may even provide them without you asking. Ensure you confirm they have these certifications:
Licensed by the FMCSA
Licenses from the Department of Transportation (DOT)
Pro Mover certification by American Moving and Storage Association (AMSA)
4. In-home or video inspection estimates:
Customers are increasingly asking for quotes over the phone. Suddath can hear you. To move a small space, some movers (Suddath inclusive) an estimator tool that provides the option of receiving a moving quote to clients via the phone and they can make a deposit to quickly reserve the move. For larger moves, before you can get the most accurate moving quote, we recommend you arrange an on-site estimate or a video inspection.
5. Moving company reviews:
You sure need to read reviews on the moving companies that you will like to hire. Consider websites that post genuine reviews such as BBB, Hellpeter.com, or movingfeedback.com. Additionally, make sure that the moving company is a member of a professional association.
Enter Moving Details and Get your moving Quote in Seconds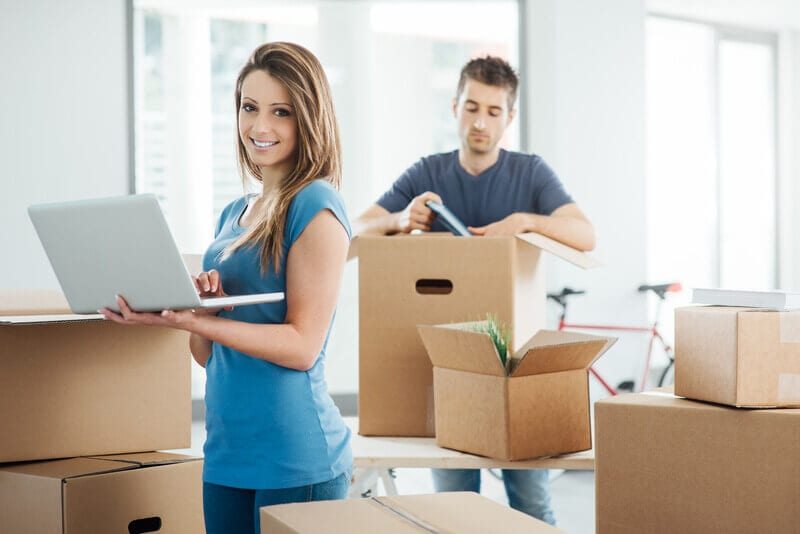 Frequently Asked Questions about Long-Distance Movers
Are you getting ready to move sooner? Kindly fill out a form on our website's homepage and obtain quotes from these trustworthy long-distance movers. At Adams Van Lines, you will get nothing but the best for your move.