Pricing of PODS is based on many different factors related to your specific moving situation. Rates can range from $149.99 monthly for the smallest PODS size and above.
Normally, the price increases for large containers and a monthly usage rate will also be charged with long-distance moves. Extra fees may also be charged on size availability, duration of storage, as well as the current location.
If your move is below 50 miles, your costs will be much lower than if your move is to a farther distance.
However, if you are moving to another state, prepare for a minimum of $1,000 for just one container. While this is not general pricing for all cases, you should be able to estimate your possible pods cost per month.
In this post, we discuss the cost of pods per month for different moves. Let's get it started.
What is the Cost of PODS to Move Locally?
Whether you are setting up your home, there is a gap in your leases, or you just need some additional time to move, if there is storage required in your move, you have three options:
1. Local Storage Unit Rental
Local storage centers are all around and can offer reasonable monthly storage rates. The major limitation is that the moving of your items will have to be done twice if you decide to rent a storage unit. This is the most cost-effective option if you need long-term storage (more than 12 months).
2. Store with a Moving Company
A lot of professional moving companies have warehouses and also offer storage at reasonable monthly rates. The major limitation is that there may be limited access to your stored belongings.
Monthly storage rates can be higher than local storage centers so this is your best option if all you need is to store for just a few months.
3. Portable Storage Container Rental (PODS)
Have a moving container delivered to your home directly and prevent yourself from the need to move in and out of a storage center. This option is the best if you are storing your belongings while moving.
Yeah, now that you know some portable storage container alternatives, let us discuss pricing for moving locally with PODS.
Enter Moving Details and Get your moving Quote in Seconds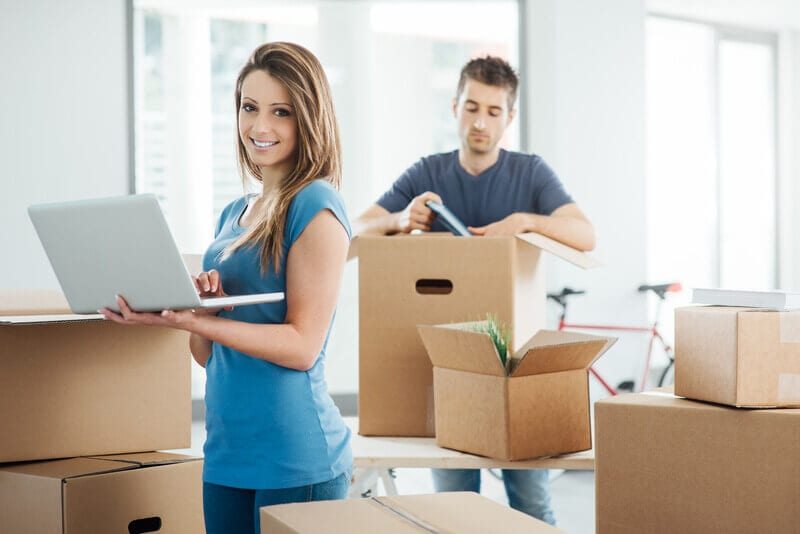 PODS Pricing for Local Move
PODS offers three various sizes of container, each with a bit different pricing. Charges include monthly storage rates, delivery fees, and transit costs.
The most expensive size of the three is the largest 16-ft container. Most of the rates remain the same for all container sizes.
The rental rate for the first month is the only significant difference and it varies based on the size.
For example, below is the pricing breakdown for moving locally in Atlanta, GA.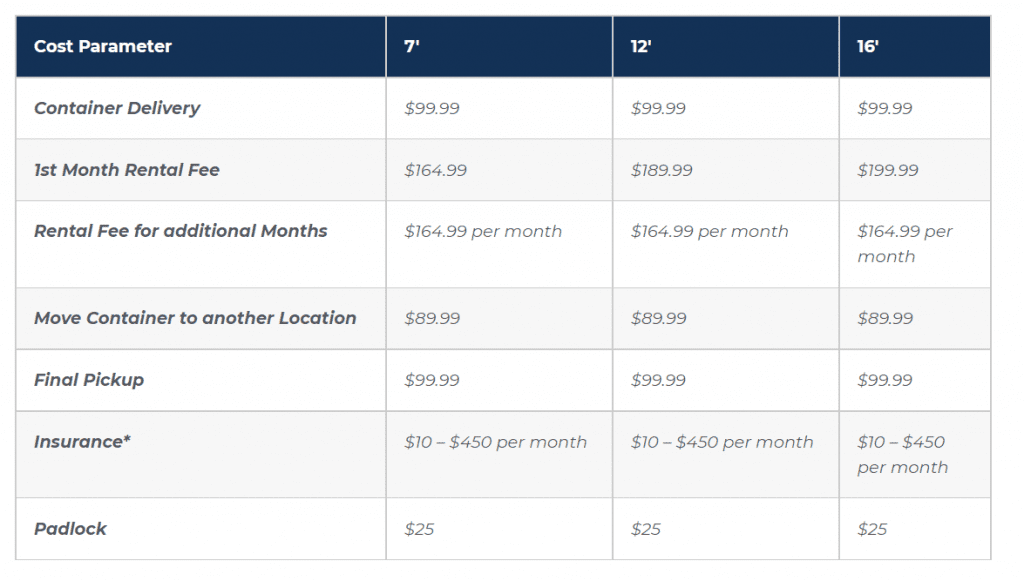 | Cost Parameter | 7′ | 12′ | 16′ |
| --- | --- | --- | --- |
| Container Delivery | $99.99 | $99.99 | $99.99 |
| 1st Month Rental Fee | $164.99 | $189.99 | $199.99 |
| Rental Fee for additional Months | $164.99 per month | $164.99 per month | $164.99 per month |
| Move Container to another Location | $89.99 | $89.99 | $89.99 |
| Final Pickup | $99.99 | $99.99 | $99.99 |
| Insurance* | $10 – $450 per month | $10 – $450 per month | $10 – $450 per month |
| Padlock | $25 | $25 | $25 |
Note: The cost of insurance can be different based on the level of coverage you select and the declared value.
What is the Cost of PODS for a Move that involves Long-Distance?
The price of PODS can be so much different for interstate moves. Sadly, you also will be required to call in to obtain pricing since the company's website doesn't give quick quotes for long-distance moves.
Since the cost of long-distance moves can be so different, one cannot easily determine the cost of PODS but here is a sample of their pricing for a long-distance move from Atlanta to Loos Angeles.
Remember, you will need to contact the company on phone to obtain a real idea of the costs of your long-distance move. Since the cost of moving to another state significantly varies based on each company, we strongly recommend obtaining quotes from different moving container providers too.

| | | | |
| --- | --- | --- | --- |
|   | One-bedroom | Two-three bedrooms | Four-five bedrooms |
| < 250 miles | $450 to $800 | $750 to $1,900 | $900 to $2,100 |
| Cross country | $2,000 – $4,000 | $3,000 – $4,900 | $5,500 – $7,600 |
What is the Overall Cost of PODS per Month?
We make use of a sample, local move from Boulder City, Nevada to Las Vegas which involves about 25 miles. This sample pricing will let you know of the ballpark cost for the cost of local moves with PODS, but remember that the cost will be different based on location too.
The cost of bigger moves to a densely populated city will be more than moving to a less populated location.
The 7-ft container for this quote was not possible as it can only store just about 1-room's worth of furniture, so they cannot contain items for larger moves.
Quote for a short-distance move from Boulder City to Las Vegas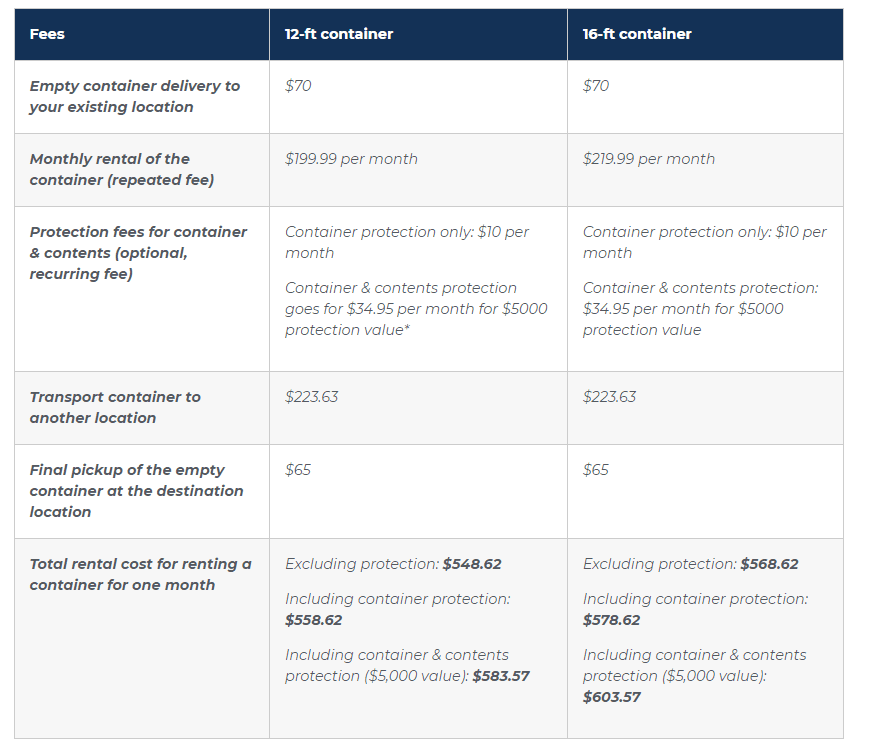 Fees
12-ft container
16-ft container
Empty container delivery to your existing location
$70
$70
Monthly rental of the container (repeated fee)
$199.99 per month
$219.99 per month
Protection fees for container & contents (optional, recurring fee)

Container protection only: $10 per month

Container & contents protection goes for $34.95 per month for $5000 protection value*

Container protection only: $10 per month

Container & contents protection: $34.95 per month for $5000 protection value

Transport container to another location
$223.63
$223.63
Final pickup of the empty container at the destination location
$65
$65
Total rental cost for renting a container for one month

Excluding protection: $548.62

Including container protection: $558.62

Including container & contents protection ($5,000 value): $583.57

Excluding protection: $568.62

Including container protection: $578.62

Including container & contents protection ($5,000 value): $603.57
The cost of container and contents protection can be as high as $5000 to $300,000 value. The value you select will determine the increase in your monthly fees for protection.
You will need to contact PODS to acquire a quote for interstate moves, but you can prepare about $1,000 – $3,000.
Calling will also enable you to talk to a company representative about available discounts and promotions to enable savings.
If you need a more full-service move, PODS can also arrange for packing supplies and hook you up with local packers if you don't plan to pack up yourself.
Factors that determine the Cost of PODS
One major thing to remember is that there is no fixed price for moving with PODS or any other moving company. Moving container providers consider a lot of factors when they are coming up with a quote for your move.
Below are just some of the factors that are considered before you obtain a price:
1. Your current and destination locations:
The two zip codes involved in your move can affect the final price of the move, majorly because availability is different at each location. The distance the company is delivering or picking up your containers is also a factor here.
And the cost of moving to rural locations is usually less expensive to book a container during those months. Since a lot of people like to move on the weekends, prices may increase because of the less availability on Saturdays and Sundays.
2. The distance you are moving:
This may not seem new to you, but the farther you are moving will affect the price. In general, farther moving distance costs more, especially with moving container companies, where the costs related to moving the containers (fuel and vehicle maintenance) are included in your quote. Prepare for a higher cost to move cross country with PODS than you would for a local move.
3. The number of items you have:
If your items are much, you will need bigger moving containers, which may end up costing you more than making use of smaller or fewer containers.
4. Whether you buy extra services:
A lot of moving container providers offer extra services like packing assistance, moving supplies, or additional insurance for our containers or shipments. Buying any of these additional services will increase the final cost of your move.
Smart Ways to Reduce Your Storage Costs
When you are looking to save on the prices of a storage unit, there are many ways to make it affordable for your budget. Do not let go of the chance to save on discounts and special promotions. Just make sure you get all the relevant details.
1. Discount offers:
Check for discounts and always find out if there are available discounts, even if none is mentioned on the company's website. For instance, some discounts provide you with free delivery and pickup for rentals of 3 months or longer, which presents you the flexibility as well as convenience of the portable container at competitive prison.
2. Military discounts:
If you are a military veteran or an active member, you may qualify for special savings. For instance, you can get a military discount from PODS for storage and moving services for retired, veteran, and active members of the United States Armed Forces.
3. Possible savings on long-term storage:
If you are sure that you will be stored for 3 months or longer, you need to ask for the cost of long-term storage. There may be special deals, promotions, or discounts for storing for that much time. Be careful to prevent yourself from booking for a longer period than necessary because you could end up spending more than necessary.
4. Read the contract:
Discount is a perfect way to reduce costs. Avoid being lured into a deal where you will later be heavily charged. A lot of self-storage centers attract customers by making their first-month rental fee or offer them ridiculously low costs, only to inflate your monthly rent after you've completed all the task of moving your belongings. Others offer 12-month leases.
The less item you are storing, the more you will be able to save on storage space. Even though you will spend extra time on decluttering and streamlining your belongings, this step can rake in more money for you by reducing your costs, not to mention time and stress reduction during loading and unloading.
Sell or donate extra items: The best thing about selling or donating stuff is that others transport it away for you. Make some additional cash by hosting a yard sale or posting stuff online on websites like Craigslist, Nextdoor or OfferUp app.
If you don't have much time or don't have a car that is large enough to accommodate your belongings, arrange a pick-up with a local non-profit organization. Either way, your items will be put to good use.
Get help from your close ones or professional organizers: Decluttering is much easier when it is not your belongings. Ask a friend or get a professional helper to assist with sorting, purging, and organizing your stuff. Find out some instant ideas on how to declutter.
Make use of on-site portable storage units to make the process easier: When the quantity of your belongings seems too much, you can move some of it into a portable container placed in your yard or driveway by taking some days off to get this task done and make temporary space while you determine what you want to hold and store.
How to Pack and Load to Optimize Storage
You will be able to reduce the size and number of the containers needed for your move and reduce your costs by packing and loading with efficient techniques.
Hire pro packers and loaders: Moving and storage professionals understand the ways to make good use of storage space, helping you to reduce costs indirectly. Get help for packing and loading.
Make sure you are clear about the type and quantity of storage you need: Find out more on how to find the right unit for you.
Also, read What You Should Not Pack in a POD
Frequently Asked Questions About Pods
Is PODS Your Best Choice for your Move?
You alone can decide on the company that best fits your budget and your moving needs. Whether PODS, any other content provider, a do-it-yourself moving truck rental company, or a long-distance moving company, you need to make careful considerations for this huge decision.
That is why you need to begin with making a comparison of quick quotes obtained from multiple reliable full-service moving companies together. When you are selecting a moving company, you need all the knowledge and information available.