Full service moving companies have the skill to execute any move whether local or interstate move as easily as possible. Even though it might be far from the most affordable option, it is surely the best choice for those who cannot tackle many tasks of relocating for any reason.
Not planning to handle any task for your upcoming move? You are fortunate!
Professional full-service moving companies can take care of all tasks involved with your relocation, so that you can relax while your movers take care of your moving without you lifting a finger.
From the best five (5) full-service moving companies to how to select the best moving company, moving costs, and FAQ regarding full-service movers, let's check everything you should know concerning full-service moving companies.
Top 3 Recommended Full-Service Moving Companies
While it is not the most affordable option, the great convenience that comes with full-service moving companies is always worth the cost. Adams Van Lines' teams researched various moving companies around based on moving services, worldwide presence, and unmatched customer service and came up with the best three that stood out.
Ease of booking, licenses and insurance with the required regulation bodies, as well as good rating on BBB and other related platform were put into consideration.
All of the 3 top companies on our list are great full-service moving companies that can make your upcoming move convenient.
The 5 Best Full-Service Moving Companies Around You
Full-service moving companies take care of moves from the beginning to the end, including standard loading and unloading, furniture disassembly, and driving to the new address. Usually, you can make payment for extra services, like professional packing.
These are our top choices for full-service moving companies due to their wide location coverage, excellent track record, friendly online quote, reservation tool, and packages of helpful extra services.  All of the full-service moving companies here are licensed, bonded, and insured.
Getting quotes from these movers guarantees quality service delivery and smooth moving experience.
This company is a strict average moving service that offers varieties of services with good pricing and customer satisfaction. Fortunately, the price-matching policy of the company enables customers to receive a much competitive rate if they choose to obtain moving quotes from other movers.
Whether you get quotes from competitors or not, it costs you nothing to obtain a moving estimate from Moving APT just to determine the amount it will charge to move you.
Moving APT offers full-service moving, storage, and auto shipping. The company's network of moving companies and transporters make it one of the best both movers and brokers nationwide, providing an easy one-stop shopping experience to customers for their relocation.   
Price matching
Background-screened employees
Helpful pricing info online
Many customer complaints
Unhelpful customer service chat
This is a platform that connects consumers to movers all across the United States. Customers can perform local or interstate and as well as international moves. Extra services include special handling for valuables, storage, auto shipping, and full packing and unpacking.
iMoving.com offers 100% coverage insurance and waits up to 7 working days after your move is complete to pay the relocation company, providing you more time to find a solution to any disputes. You can make a comparison of moving companies depending on customer ratings, years of experience, pricing, and the website's unique screening process.
All of the carriers on moving are insured, licensed, and screened. The customer service on moving is available via phone, email, or chat. There are many resources provided on moving to help customers with their move, including a comprehensive moving checklist.
Domestic and international moves
Numerous additional services
Delayed payment option
Not available in all-state
This company is an experienced and dedicated moving company that has been moving people for many years, serving the customers efficiently. They offer varieties of moving services, which include packing, loading, hauling, and unloading your valuable goods on your new residence.
With a focus on quality and customer satisfaction, Pricing Van Lines offers personalized moving solutions to our clients based on their moving requirements. They offer moving quotes that are budget-friendly and complete safe moves assurance. Pricing Van Lines is one of the best moving companies anywhere. 
Offers personalized moving strategies
Offers no-cost no-obligation moving quotes
Highly competitive pricing system in the business
Different helpful moving resources
Well-trained and background-screened staff
Can't find one at the moment
This is a full-service interstate moving company that operates one of the largest relocation networks in the universe. This company doesn't only partner with many agents (local movers) to satisfy customers, it also provides quality service. A nice physical estimate experience, great customer service, and a long list of services make the company a better choice. Allied's location across the globe makes it the perfect full-service company for professionals seeking a full-service moving company that efficiently moves families to Europe.
Responsive customer service agents
Nice on-site moving estimate experience
Appliance disconnection and reconnection
Pricing transparency
No cheap storage options for small shipments
"Guaranteed" prices are not usually guaranteed
Being the smallest full-service moving company on our list, Wheaton Worldwide Moving is reputed as a flexible company that can perform last-minute changes in a plan, including changes in the services needed by a customer or their move. Wheaton is not available in Nevada, Maine, and Wyoming, but it works well in other 47 states. Instead of arranging an on-site inspection for an estimate, Wheaton offers a tool for ballpark moving estimates on its site that is so accurate.
One of the oldest movers
Well experienced in a long-distance move
Delivers quality service in general
Great customer
Online cargo tracking not available
Enter Moving Details and Get your moving Quote in Seconds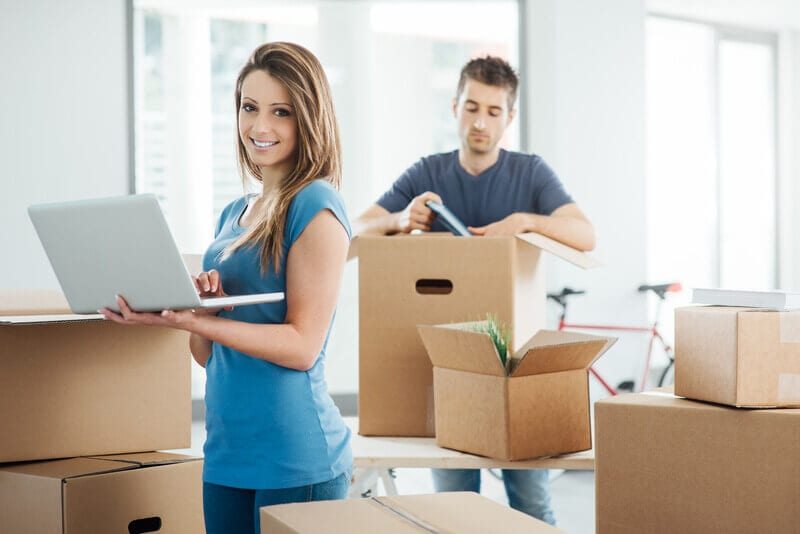 What's included in a Full-Service Moving?
Full-service relocation contains everything. So, immediately you have reserved the services of a reputable full-service mover, you only need to choose your moving date and mention your specific needs. The moving company will get everything else done – all the important parts and little details of the moving process.
Below is a list of what is included in full-service moving:
1. Packing:
This is the part of a move that takes the most time. But it doesn't need to be for you. If you hire a moving company, they will make sure that all your household goods are safely and securely packed for shipping. If you have expensive or delicate belongings, they can perfectly pack this for moving.
2. Furniture disassembly:
Moving companies reduce the tough work of furniture disassembly. Something that might take much of your time to handle if you were to handle it by yourself. As full-service movers are professionals when it comes to disassembling furniture, all your heavy and large furniture can be easily and securely moved. Also, immediately after your belongings arrive at your new home, the movers will reassemble all your furniture quickly.
Moving large goods is not as simple as it might appear. For instance, moving a pool table or moving a piano needs specialized relocation services and this is where you can get better assistance from full-service moving companies. They all possess the skills and equipment to make sure your large furniture items made it to your new home undamaged.
3. Loading/unloading moving truck:
Heavy lifting should be left for the experts, especially if you don't have much or any experience with moving large and heavy furniture. Full-service movers will not only pack your entire possessions but they will load and offload the moving vehicle for you.
4. Moving transport:
Whether your move is local or crosses country, full-service moving companies will make available a moving truck, which will ship your entire goods safely to your new address. The only thing you will need is to receive the goods at your new residence and allow them to simplify your move as possible as it could be.
5. Getting rid of packing materials:
If you have moved in the past, you should know that it leaves you with several packing supplies, moving boxes, and more. A full-service moving company will dispose of all these supplies. Essentially, they will get rid of these supplies in the best way ever. It leaves you with reduced mess and enough time to settle into your new residence.
How to pick Full-Service Moving Companies
Whether you are moving to a new country or out of your parent's house, hiring a moving company doesn't have to be stressful for you. Follow these six important steps to locate the best full-service moving company for you:
1. Obtain multiple estimates:
With all the tasks you need to perform for a move, it is tempting to select the first mover that appears good. However, it is important to conduct research on businesses first and speak to a minimum of two or three movers to make sure you are receiving the best deal.
Receiving a moving quote provides you an insight into what the moving company charges for your transition, but estimated quotes can change in some cases. Some companies perform price-matching or provide additional offerings to gain your business, so it is important to obtain several quotes.
2. Perform a walk-through:
To obtain a precise idea of the amount moving companies cost, bring many moving companies to perform a walk-through of your current household. Moving companies might charge additional fees for delicate belongings, extra labor, or large furniture. The walk-through also provides you an opportunity to determine if you feel comfortable with the mover.
3. Ask for references:
Trustworthy moving companies give references based on requests. These references may be ex-customer, insurance agents, or accrediting agencies. Going through references is very important when ensuring a moving company is reliable, has an excellent track record, and offers great customer service.
4. Read customer reviews:
It is important to determine what other customers think about the company as well as the types of complaints that are popularly made against it. A moving company might look sharp at distance, but old customers can tell you what working with the company feels like.
5. Watch out for warning signals:
If the moving company doesn't have an address, hasn't been operating business for long, or has several business names, this can be pointing to fraud or a scam. A moving company that doesn't have references, reputation, or reviews is also suspicious and might be under the control of a scammer.
6. Pay on delivery:
A reputable moving company doesn't request payment until the relocation is complete. Some companies may require a deposit (usually 20% or less), but you should never pay the total moving cost in advance. Use a credit card to pay your deposit in case you have to dispute transactions – you can easily recover your money like this.  
What is the Cost of Full-Service Moving Companies?
Moving costs can vary significantly. Moving companies tend to charge an average of $2,000 – $5,000 based on various factors.
As you could think of, hiring full-service moving companies will certainly increase the cost times two, beyond hiring a mover to execute just one or two moving services. Generally, you should make sure you get 2-3 moving cost estimates before selecting the well-suited full-service moving company for your move.
Moving companies tend to charge about $25 – $50 per hour per worker. But your total moving cost will base on:
The number of workers needed
The quantity of furniture you are moving
If you need specialized moving services like moving a piano, moving a pool table, or moving a hot tub
Your insurance cost is another moving cost that you will need to factor
Each moving that the movers need to handle
Moving rates are also based on the time of year you decide to move. if you are moving when demand for movers is high, just plan to pay more
And lastly, the distance of your next location to the new one will affect the cost
The easiest and fastest means available to use to determine the cost of your move is to make use of a moving cost calculator.
Below is a range of the costs you can prepare for:
| Services | Local move | Long-distance move |
| --- | --- | --- |
| Basic move (no additional moving services) | $550 to $2,000 | $2,000 to $7,500 |
| Packing service | $30 to $60 per labor-hour | $500 to $4,000 |
| Moving coverage | $0 to $8 per $1,000 in value covered | $0 to $8 per $1,000 in value covered |
Enter Moving Details and Get your moving Quote in Seconds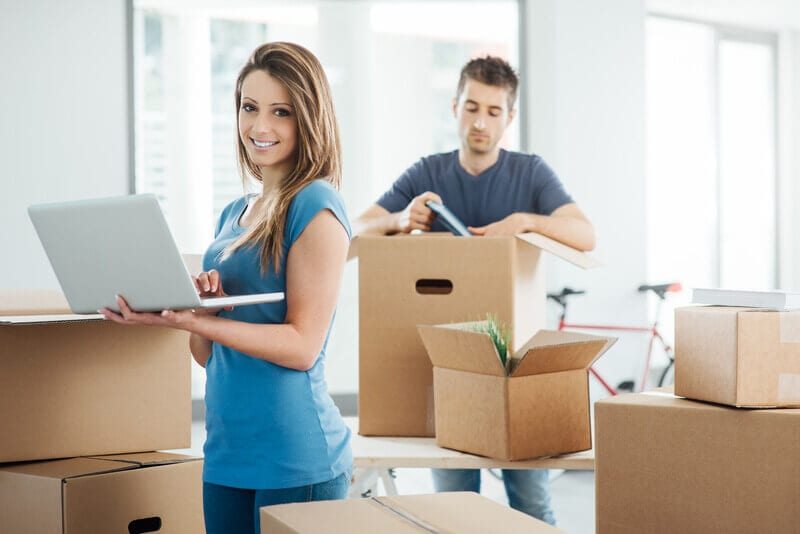 Frequently Asked Questions about Long-Distance Movers
Full-service moving companies are full- the moving industry, and so much worth the cost if you have the budget. If you are hoping to do only a little work as regards your upcoming move, begin by handling your research on full-service moving companies near you and get a company that offers the actual service you need. Choosing the best movers for the task will be the most comprehensive work you will have to do into your move, which still sounds a bit good. 
You can start with the above-recommended movers.