There is no way to move without moving boxes. But selecting the perfect ones and getting enough packing supplies for your move can feel tiring. With a lot of choices available online and in stores, how do you know where to begin?
Packing is simply the most daunting part of a move. Gathering packing supplies and boxes, deciding the items you are moving with you, and physically, packing can take much of your time.
Professional movers know the best way to use different types of moving boxes. We compile this guide to choosing the right moving boxes and packing supplies for the task at hand. Check different moving boxes, their dimensions, and how to properly use them in your next move.  
Packing up your stuff doesn't have to overwhelm you. By knowing the exact moving boxes to use for a certain item, you can easily and safely pack and move your valuable items to your new home.
Below are various types of moving boxes and their uses:
Medium Linen Box (18 x 18 x 16)
This box size is versatile. It will likely be most of your boxes. You can pack any of your folded clothes, sheets, shoes, and small kitchen appliances in this size of the box. We recommend the use of bubble wrap to cushion and fill up space inside the box during the packing of small kitchen appliances.
Large Linen Box (24 by 18 by 18)
This box is just as durable as the medium linen box but has more space to hold bedding, blankets, and other comforters. It is a perfect box to pack your pillows and towels too. You can also pack a bit larger kitchen wares in this size of the box too, like small toaster ovens. Also, you need bubble wrap to avoid damage to the content during the move.  
Dish/China Box (18 by 18 by 27)
These sturdy boxes are padded and designed to contain and protect delicate items, such as glasses, plates, and vases. During packing of your kitchen, we suggest that you wrap each item in bubble wrap, with the use of packing paper to fill additional spaces. Restricting movement in the box will reduce the chances of broken glassware when you get to your destination.
Book Boxes (12 x 12.5 x 17)
These smaller moving boxes are perfect for heavier stuff. Books, photo albums, cutlery, and other items of density are suited for book boxes.
Wardrobe boxes (24 by 21 by 36.5)
Each wardrobe box contains around 2 feet of closet space (equals to around 40 to 50 hangers for each box based on the items). The box has a hanging metal bar fitted in it to hand clothing items from your wardrobe.
Picture Boxes
These boxes are for specialty items that come in different sizes meant for pieces of artwork or picture frames that are not valuable enough to need custom crating.
Custom Crates
This service should be offered by all reputable moving companies. For items of particular values, whether pianos, artwork, or family heirlooms, a mover can provide custom wooden crates to contain your belongings perfectly. This is the best way to protect your valuable belongings even though it may come at an extra cost.
Electronic Boxes
Keeping your boxes when you purchased a new television, computer, or gaming system is a brilliant idea. These items are best repacked and moved in their original carton. If you don't have the boxes with you anymore, cut parts of cardboard panels from your moving boxes and protect them using heavy tape. Then, use pillows and blankets to cover them.
 Always remember that the best way to move a flat-screen or plasma TV is upright. Avoid laying such items on their side or back or you could end up causing permanent damage to the picture quality.
Mattress Boxes
You need to importantly protect your mattress when moving. You sleep on it, so you want to avoid exposing it to dirt, dust, and germs. Mattress boxes were specially made with this purpose and are perfect for moving, but if you couldn't get one for some reason, don't panic. Mattress bags are just as effective. And if you also don't have a mattress bag, still don't worry.
Use fitted sheets to cover your mattress for the move and give them a good wash in the washing machine after you get to your new home. If it is raining, you can cut up trash bags and strong tape, too.
Suitcases, Baskets, and Hampers
We understand your thoughts. Suitcases, baskets and hampers are not boxes. But seriously, they are. Each of these items was designed for storage and that space should be put to work. Suitcases can be used to move clothes, hampers can contain towels and linens, and baskets can carry canned goods and small miscellaneous belongings from your kitchen and bathroom.
Similar to how important it is to choose the right moving boxes, packing materials (during a self-packing) is important to prevent damage on the move.
Here are the highly famous packing materials. These items are mostly used and supplied by professional movers. If you need more, you can also buy at most home improvement stores.
Packing tape with dispenser
It is an essential tool to secure the boxes faster and efficiently. We recommend that you buy five to six rolls of packing tape for a one-bedroom move. Even though it may seem excessive, it is better to have extra tape at hand than insufficient.
Packing paper
We recommend getting 15 to 20 lbs. of packing paper for a standard one-bedroom apartment. Consider how you will pack up the kitchen. Wrap dishes and glasses as you block any extra spaces inside the boxes. This will further protect your delicate items.
Moving blankets
Even though Adams Van Lines ensures the use of clean, new moving blankets for our moves, we can't say the same for everyone. If you prefer to buy your moving blankets, you can proceed with them.
Markers and Labels
You want to avoid a situation where you don't know what you packed in a box after hauling it to your new home. During packing, label your moving boxes by the right room and contents. For your delicate items, ensure you inscribe 'fragile' on the sides of the boxes. 
Determine the Number of Packing Materials You Will Need
After decluttering your home and having only the important items left to move, try to look into your remaining shipment. You will determine the quantity of packing supplies you need if you consider the size of your moving shipment.
This means; The type of things you are packing will also affect the quantity of packing items you will require.
After considering those parts, you will have a better insight into the packing supplies you need to buy to correctly pack all your stuff.
Finding out the Number of Boxes to Purchase
Before ordering moving supplies, assess your needs using the chart below.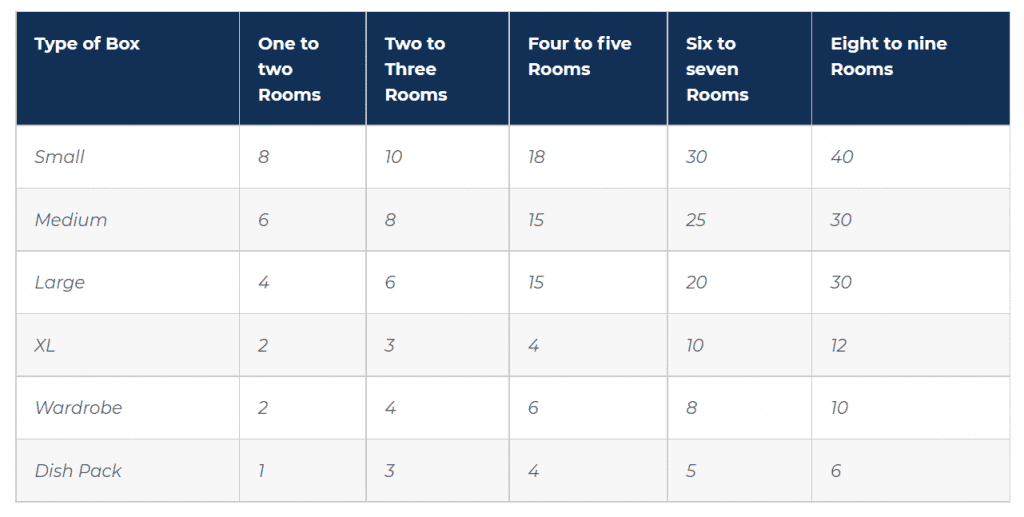 | Type of Box | One to two Rooms | Two to Three Rooms | Four to five Rooms | Six to seven Rooms | Eight to nine Rooms |
| --- | --- | --- | --- | --- | --- |
| Small | 8 | 10 | 18 | 30 | 40 |
| Medium | 6 | 8 | 15 | 25 | 30 |
| Large | 4 | 6 | 15 | 20 | 30 |
| XL | 2 | 3 | 4 | 10 | 12 |
| Wardrobe | 2 | 4 | 6 | 8 | 10 |
| Dish Pack | 1 | 3 | 4 | 5 | 6 |
Note: If there are more items to pack in your home than the standard home, you may want to take another column to ensure you have abundant.  
When you have different boxes, it means you will have the right one for all your items.
Also, check our Best Packing Checklist When Moving
The Best Places To Get Moving Boxes For Free
Moving is costly. Even if you are performing a DIY move and take care of all work on your own, one of the simplest ways to save cost is to gather free moving boxes. See how below:
1. Save your delivery boxes:
Begin to keep your delivery boxes when you order items online. Also ask your family, friends, and neighbors to do the same. A lot of people end up breaking those boxes and placing them into the recycling bin.
2. Post on social media:
If you have accounts with Twitter, Facebook, or other social media platforms, ensure you inform your followers to spare some moving boxes for you.
They, or anyone they know, might have moved recently and been glad to put their moving boxes and packing supplies to another use.
3. Liquor and grocery stores:
Grocery stores, as well as liquor stores, have numerous boxes they want to dispose of. Most times, they break the boxes down and trash them into the recycling bin unless someone shows up with interest in it. You could be that someone.
4. On craigslist's buy nothing, ask for some:
A lot of people don't want to face the possibility of getting rid of their boxes after moving. They'd prefer to give them out to someone who can make use of them. You only need to ask.
5. U-Haul:
There is a program by U-Haul that allows people to drop off their moving boxes after moving to leave for the next person, making use of the first come first serve technique. Call them to find out if they have any on the ground.   
As you are packing your items for a cross-country move, don't waste time on getting the packing supplies. Check the quality of materials, especially the free ones. Transporting furniture and household goods across state borders is a huge task than moving to another street. Ensure you have the necessary packing supplies for the task ahead. If you need more help selecting the boxes for your next move, drop a comment here, and we will be glad to help. With a reputable full-service moving company, you will have a smooth moving experience.