So you are getting ready for a move. The number one thing you do is to begin to perform some research to understand everything you need to know about a move.
First, you might search for a moving checklist or packing checklist to ensure you have all that you need to have. Then you begin to find the best type of moving for your need. You then proceed by looking for the best long distance moving companies in the market.
In no time, you begin to wonder how much does it cost to move.
Before you can plan a budget for anything, you must first have a list of things that will cost you money. This is where the moving cost checklist comes in.
We compiled a detailed moving cost checklist mainly for you.
Continue reading for a complete list of things that you have to consider when creating your moving budget.
Factors that Impact the Moving Cost
Although moving costs are not the same generally, there are little important factors that dictate the cost of your upcoming move:
The time of year: Summer is the peak season for relocation, and increase demand means you will pay a higher fee to rent a moving truck or hire moving companies during the summer months.
How many items you have: During a move, each piece of stuff in your home cost money. Professional movers, for example, base their charges on the weight and size of your things. The more items they relocate for you, the more money you pay.
Even though a self-move is often cheaper, the truth remains the same: the more things you have, the bigger the truck size you need to rent, and the more money you pay for it in time and effort of moving items.
The distance: Long-distance moves are always on the high side. Prepare for hotel, gas, and meals, alongside normal moving costs, such as moving truck rental and packing supplies when you move to another city or state.
Next is for us to divide those costs by category. The following are the costs you have to research as you prepare to move on a budget:
1. Professional Mover Cost
Booking your move is of course your first moving expense. You will need to decide whether to DIY or get a professional full-service moving company to do it. Take it or leave it, but sometimes, hiring professional movers can save you money through their timely work, especially if your move is to a long-distance destination.
Below are some costs you need to factor in. Don't forget, the majority of moving company estimates are dependent on weight and your moving distance.
Rate of move
Packing services
Insurance
Surprise charges
Since moving companies often charge customers based on time spent, planning your time with your moving company in a strategic way and in advance can save you money.
How much do Long-Distance Moves Cost?
The chart below provides you with a rough idea of the cost to expect when moving cross country for different size moves as well as for various moving options.

| Moving Options | One Bedroom | Two-three Bedroom | Four-five Bedroom+ |
| --- | --- | --- | --- |
| Rental Truck | $2,000 to $3,000 | $2,500 to $3,500 | $3,500+ |
| Freight Trailer | $1,500 to $2,000 | $2,000 to $3,000 | $3,500 |
| Moving Container | $1,500 to $3,000 | $1,500 to $3,000 | $6,000+ |
| Moving Company | $1,500 – $3,500 | $4,000 – $7,000 | $8,500 |
You need to importantly note that you can only use freight trailers for long-distance moves. Check the table below for help on local moves.
How much do Local Moves Cost?
The chart below will give you a rough idea of the cost a professional mover will charge you for a local move based on the size of the move: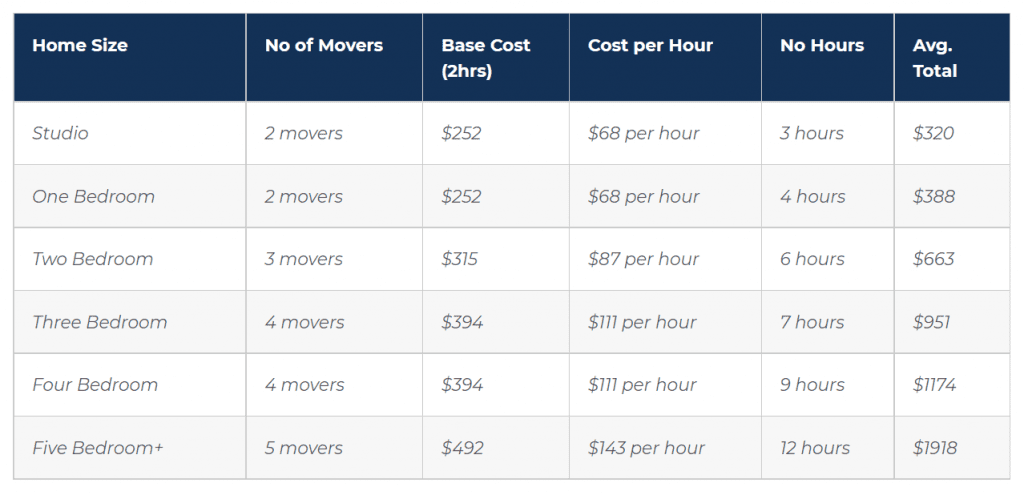 | Home Size | No of Movers | Base Cost (2hrs) | Cost per Hour | No Hours | Avg. Total |
| --- | --- | --- | --- | --- | --- |
| Studio | 2 movers | $252 | $68 per hour | 3 hours | $320 |
| One Bedroom | 2 movers | $252 | $68 per hour | 4 hours | $388 |
| Two Bedroom | 3 movers | $315 | $87 per hour | 6 hours | $663 |
| Three Bedroom | 4 movers | $394 | $111 per hour | 7 hours | $951 |
| Four Bedroom | 4 movers | $394 | $111 per hour | 9 hours | $1174 |
| Five Bedroom+ | 5 movers | $492 | $143 per hour | 12 hours | $1918 |
The examples provided here are mere general estimates. To obtain a free and customized quote instantly, check and use our moving cost calculator.
Expect to pay between $28 and $52 to move a 1-bedroom with a truck rental for a local move.
On the other hand, prepare between $58 and $73 to move to a five-bedroom home.
Renting a moving container will cost about $130 to move locally. Remember that a moving container can probably fit a three-bedroom move. If you require more space, you'll need to rent a second container so you will pay double the cost.
1. Self-Moving Expenses
Self-moving might seem to you like a perfect way to save money, but it not free. We recommend you rent an enclosed moving truck to prevent your possessions from unnecessary damage on the move.  
Truck rental
Mileage / gas
Food and drink
Rental equipment
Dolly
Ramp
2. Packing Materials Cost
Buy quality packing materials for the best move ever. Old cardboard boxes can disappoint you by falling apart on the move. Also, you should consider buying some dishware boxes to protect your highly delicate items.
Boxes
Packing tape/labels
Mattress and furniture covers
Packing material
What Extra Expenses Should I Consider In My Budget When Moving Out?
Yes, there are some unplanned costs. Aside from those obvious and basic costs, prepare a room in your budget for the unexpected costs because there are always some.
Maybe the moving truck you rented is no longer available at the last minute, and you have to look for another moving truck. Or maybe your packing supplies are not enough, or you don't know the items your movers won't transport; something always come up. Now, let's dig into what you should have on your list as additional costs.
1. Housing-Related Costs
Whether you put your house on sale or your house lease is expiring, there will be a few numbers of things to handle before you leave.
Cleaning and repairs: To make sure your house sells at the best value possible or to recover your security deposit back, you must leave the house neat and in great condition. Prepare a little time and money to ensure this is addressed before you move out officially.
The real estate agent(s): You will also want to include real estate agent fees and their commissions in your budget. Even though you don't pay them directly they are still receiving a share of the deal and you should always consider that.
Deposits: These costs might include: first month's rent, utility deposit, pet deposit, security deposit, and so on.
2. Transportation and Accommodation Cost
For your next move, especially if it's to another state, you'll need to consider transportation and maybe temporary housing. This is definitely for the duration between moving out of your former home and relocating into your new home.
Living costs for transport time: This includes basic things like food. The rate at which you eat out this time might be more than your usual, so you sure want to factor this in your budget. This may also include water, entertainment, and other things you find yourself doing at this time.
Hotel: If there is no place you can stay for a short period, you should factor accommodation costs into your moving budget.
Baby/pet sitter: Your moving day is a busy day for you. Especially if performing a DIY move. With all these things going on, you need to consider a baby and/or pet sitter.
Airplane/gas & toll: Any method you choose to move from your origin to your destination will surely cost you some money.
Car shipping: A lot of people will choose to ship their car. If you are on this side too, budget for car shipping service as well.
Snacks, drinks & tips for helpers: For everyone helping with your move, whether friends or family, give them proper treatment. Make lunch or refreshments available. You are to decide on the amount of money you budget for this.
3. Storage-Related Costs
A lot of people, during their move, often require a storage unit solution. Maybe their new home will be available in a month time or so. It could be that they will move into a temporary home until they find their dream home. Regardless of the reason, there are costs to budget for as regards storage.
Insurance: This is so much important, I know. However, you'll be glad that you protected your things if anything should happen to them. Insurance is so much necessary when you are checking your items in for storage. Leaving everything you own somewhere for a longer period, you'll want to ensure that you are properly taken care of in the event of unexpected accidents.
Rental: Yes, storage costs money. You will be required to pay for rental fees for storage. Read How Much Does It Cost to Rent A POD Per Month? Read How Much Does It Cost to Rent A POD Per Month?
Transportation: Planning on how your belongings will get to and from the storage center that you plan to use for a short period is important.
Immediately you move in, you are almost at the end. It is important to handle these post-move expenses once and for all to completely settle in.
1. New Household Items Cost
Each household is unique. If there is a large backyard in your new home, for instance, you may want to purchase new goods to keep there. So, different types of new furniture are in this category. Other new items could be those you couldn't move from the old home, such as perishables and flammables.
2. Safety Items Cost
Each time you relocate into a new home, you should pay for even little precautions. A security system, new locks for the doors, a fire extinguisher, obtaining copies of the new keys, pest controls, and other things should be things you take care of.   
3. Cleaning Services Cost
Before you begin to unload all your goods from the moving truck, you must ensure that your new home is clean and ready. The entire cleaning, painting, and remodeling work should be completed before you begin to unpack.
If you are unable to do it yourself because of time, hire a professional cleaning service so that you can have a sparkling clean home upon arrival.
4. New Home Costs
From carpets and additional furniture to different fees and deposits, there are lots of other expenses awaiting you even after concluding the toughest part of moving:
Security deposit
Pet deposit
Renters or homeowners insurance
Real estate agency fees
Extra furniture and appliances
Small reparations around the new house
How reduce your Moving Cost?
When you check this checklist, it seems that it is from one fee to another, almost like it won't end. If you want to relocate on a budget and save some dollar, consider these tips:
Donate the items you are no more using.
Sell some stuff, especially large ones.
Arrange your moving on a workday (if possible).
Apply to the cushion using linens, socks, and blankets instead of bubble wrap.
Gather free cardboard boxes and other packing supplies through neighbors, family, friends or websites such as
Obtain multiple quotes from various companies and determine which one is the best fit.
Check online reviews before signing a mover.
Negotiate with your mover. Read how to negotiate with moving companies.
Ensuring that you know all the expenses you may encounter on your move before the moving day will enable you to know the right things to prepare for. You can begin to anticipate these moving costs in advance.
One of those costs that you should begin to prepare for is reserving the moving company. Get an instant quote for your move by using our GET A QUOTE now.